How to build a course sales page to sell more online courses: A comprehensive guide
Posted by Kelly Newcomb on January 17, 2020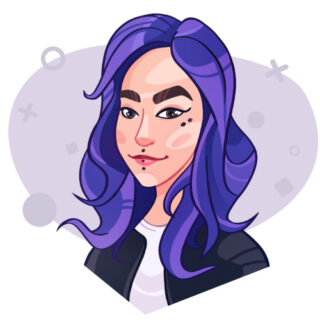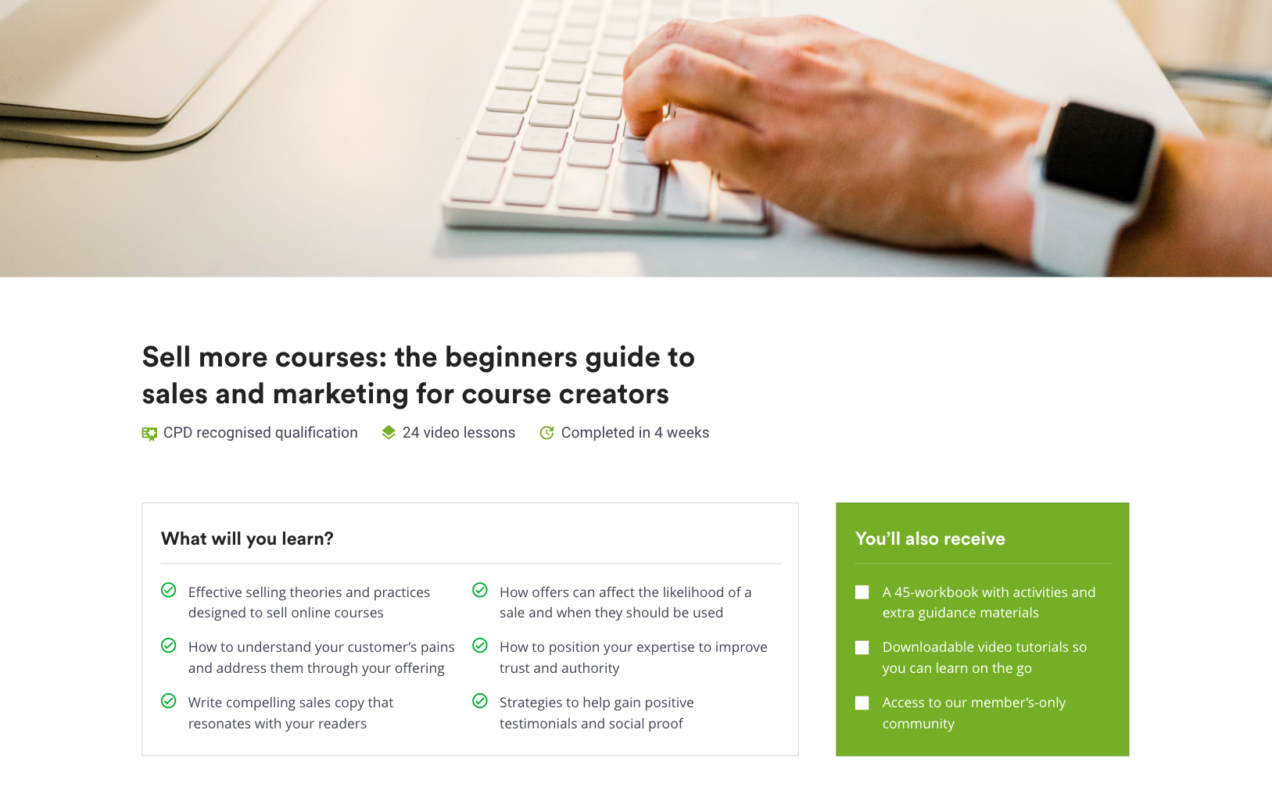 In this guide, we cover everything you need to know about how to sell courses online and create an online course sales page that'll guarantee conversions.
When it comes to how to sell courses online there are a million and one resources out there. From bold claims like 'make $1million selling online courses' to 'this the ONLY way to sell your course online', it's hard to make sense of it all.

Knowing this, we've done all the hard work for you.

Combining our specialist elearning marketing knowledge and adept sales skills, we've sifted through hundreds of live sales course pages and how-tos in our time. We've seen trends shift over time. We know what have been sales gimmicks and the sales strategies that are here to stay.

If there's a couple of things we've learnt it's this:

There is NO one size fits all in terms of content and copy
There ARE effective tried and tested online course sales pages
And we're going to share these with you.
What is a course landing page?
A course sales page is a landing page that has all of the information about your course all in one place. The main objective of the page is to sell your course, either directly or by acquiring inbound enquiries. A sales page for your online course should do all the hard work for you; increasing your course's visibility in search engines, answering FAQs and reducing the demand on your to convert prospects into sales.

Choosing the right sales page
As we've touched on, there is no one size fits all when it comes to creating a sales page for your online course. Although the content and copy may vary between different online course sales pages, one thing remains the same… the layout.

The sales journey that you'll guide your customer through will undoubtedly remain the same. But the challenges your customers are facing, the way you position your solution (ie, your course) and your unique value proposition will all be different.

By following the structure below and incorporating our sales copywriting tips you will;

Drive more traffic to your website
Get more enquiries
Sell more online courses!
Understanding your audience
Before you begin to write copy for your online course sales page you'll want to think about how you'll position your course by asking yourself these three questions:

Who is your target audience?
What will they learn?
What are the benefits?
Understanding these three components will help you to build your unique value proposition; the selling points of your course. With these in mind, you'll want to structure your copy around answering these things, but ultimately, everything you write should be focused on one thing: SELLING MORE ONLINE COURSES.

Another careful consideration should be to your students' skill level. If you're offering something that anyone can do then make it clear. If there are prerequisites introduce these early on in your Overview.

Objection Handling
Objections are the things that are stopping people from becoming customers. They are typically common concerns or reservations that block someone from fully committing. In any sales process, there will always be objections, but as you talk to more customers you will unveil more of the problems that you should be addressing in your sales pitch; in this case, your sales pitch is your online course sales page.

In advance of writing any copy, you might also want to think about potential objections so you can weave it into your online course sales page as you go. If you can anticipate and address these objections early on, you'll be more likely to achieve a sale.

Likely objections can be:

Is this relevant to me right now?
Can I afford this course?
Can I access the course with ease?
Provided your course is the right fit for someone, by including seamlessly handling objections throughout your sales copy, you'll increase your chances of a sale by 60%.

The online course sales page structure
The list below might look like a lot, but the aim is to get all the essential information that your customer will need to make an informed decision about buying your online course. Focusing on concise copywriting that really resonates with your target audience is key; you want the page to convert, ie sell more online course, while also taking the pressure off of you.

With a well-structured layout that includes the sales copy suggestions we've made in our sales page template, you can reduce the amount of time you spend dealing with customers. This can be good for a couple of reasons. Firstly, saving your own time by avoiding the need to address FAQs will give you time to invest in other things. Secondly, you can move towards generating a passive income for yourself by selling courses with little intervention from you.

There are some instances where you may require someone to get in touch with you first should they want to purchase a course, and you can still allow for this. But by getting your lead to qualify themselves first (by answering objections and FAQs in the sales copy) you'll have a higher quality lead that's more likely to convert to a sale in a short space of time.

Landing page structure
Your webpage's basic structure:
Title
Three key points
Overview (the problem)
Benefits
Offering (the solution)
Learning outcomes
Extras
About the instructor
Social proof
Trial or soft close
FAQs
Hard Close
Below, we'll go into detail about the purpose of each section and the type of content you should be filling it with to produce an effective online course sales page. We understand that not everyone is a wordsmith, but by understanding the decision making process through this online course sales template and learning more about the sales copy we can teach you how to sell more online courses.

Copywriting KFC
Ok, stay with us here. We're not talking about Kentucky Fried Chicken. In the copywriting world, KFC stands for Know Feel Commit. To write compelling sales copy, as well as understand your target audiences, their woes and how your solution is the answer, you need to ensure that your words drive the intent.

What do you want your audience to KNOW?

Start by bullet-pointing the key things you want your customers to know about your course before you start writing any full-length copy. This could be learning outcomes, value adds like live-training or certifications, or unique selling points.The next step is to try and add these key points under the relevant headings we've defined in the structure of the sales page. If you need to, refer back to the previous lesson for this list.

What do you want your audience to FEEL?

Good copy makes you feel something. Thinking about your course, how do you want your learners to feel while reading your copy. Should they feel inspired and determined? Maybe you want them to feel thoughtful? Or perhaps you want your copy to spark creativity and intrigue?Whatever it is, make a list of these and keep it close by wherever you're writing your copy. Refer back to it and scrutinise what you've written.Remember: "The essential difference between emotion and reason is that emotion leads to action while reason leads to conclusions." – Donald Calne, Canadian NeurologistIn short, sales copy that evokes an emotional reaction is more likely to turn into a sale.

What do you want your audience to COMMIT to?

This is the perfect time to begin thinking about what you want your customers to do when reading your sales copy. Through your sales copy, you are guiding your customers along, handholding them through their own decision-making process, but at some point you will have to ask them to take action. What will this be?Do you want them to send you an email through an online form? Make a purchase? Download an information pack?Think about what you want your customers to do and start drafting some calls to action. Also, consider the logistics of what you're asking. A direct sale through the sales page is best, but in some cases, you might want to vet possible enquiries. How will you make this possible? Do you have the time to commit to this yourself?
What do you want your audience to KNOW?
What do you want your audience to FEEL?
What do you want your audience to COMMIT to?
Think about these things and review your content asking yourself if you've hit the mark with these three things throughout. As you edit and optimise you'll see your content grow and elevate to the next level.
An online course landing page template
We've created a template below as an example of what a course sales page should look like so you get an idea of the formatting and presentation.
Using this sale page template and the guide below you'll understand the full how and why behind each section so you can create a sales page of your own that will surely increase conversions!
Oh, and, we've even made sure to include some helpful tips in the text too!

Title
Some course titles will only include the topic of the course, for example, Masterclass: Sell courses online, while others might choose to include the author; The Online Course Selling Masterclass by Plume.

But a catchy course title is one that is both descriptive and fairly short – below 10 words. It should include your course's theme, the level it's aimed towards and any other additional keywords that you might wish to rank for.

'Sell more courses: Beginners guide to sales and marketing for course creators' is far better than 'Sales and Marketing for course creators'.
Three key points
What makes your course stand out? Is it the number of lessons? How many hours of video content do you have? Does the course include interactive elements? Is the course certified in some way?

Think outside the box here – bearing in mind that the rest of your course sales page will include details about the content of your course, client satisfaction and details about yourself.

Overview (the problem)
Your overview should present the problem that your learners are trying to solve with your course. Think about the difficulties that your customer is facing. Why would they be seeking a course like yours in the first place? What issues does their business have? What skills do they need or want to improve? Does your course include something that your competitors don't?

You could create a scenario or narrative by putting yourself in your customers' shoes. In some cases, this will really help if you're serving a particular niche but can be more challenging if your course is a little broader.

Your customer may want to:

Sell more elearning marketing packages
Learn more about selling online courses
Move into a new career
Get a promotion
Win bigger client accounts
Earn more
Diversify or find their niche
Really take the time to list these different kinds of people and problems – by doing this early on you can focus your content and provide valuable sales copy that translates into more sales of your online course.

You may also want to consider how your course solves an issue that your competitors don't. Is there a topic you cover that they don't? Do you have an approach that's unique to your business? You can use this information to differentiate your course and establish your unique value proposition. However, if you feel like you offer something unique that might not really impact the sale overall then you could consider omitting it from the sales copy.

Remember, this is your sales pitch but it must be customer orientated at all times – that's the key ingredient to making your online course stand out.

Benefits
You may have heard the saying, list the benefits, not the features…and it's true, features don't elicit an emotional response from your customers unlike showing the difference your course will make to someone's life.

But before you jump into how your course is the solution to all of their issues, list out your core benefits in bullet points. Directly address the problems you've identified in your overview. It's essential that you have an insight into your audience's challenges so that you can address them here, linking them directly into the course content.

Increase sales of your online course by incorporating proven sales strategies
Generate more traffic to your sales page through copywriting for SEO
Decrease lead times by including content that's essential for your customer's decision-making process
Notice that these examples start with a tangible benefit. Leading with the value shifts your customer's thinking towards the positive outcomes of your course and their own potential RoI.
Follow each point by linking in a bit more about the topic, introducing how this can be achieved without giving too much away.

Bonus points for including stats which show there's data behind your claims. Having this evidence will help you sell more online courses and outrank your competitors who might be offering something similar to you.
Offering (solution)
Here's where you can expand out a little bit – if you've created a scenario or narrative in the overview address it here.

Begin to bring in those benefits and the content your course will cover. What skills will your students learn? How will it solve those business issues? What value are you bringing?

Try to move away from saying that people will learn everything to do with a subject area. For example, instead of saying, 'you will learn SEO', say, 'With this course you'll learn the technical and onsite SEO fundamentals that will set your online course apart from others, making it more discoverable in the SERPs'. Keep it focussed on the main challenges your customers are facing and play on that fear of missing out.

Expand on more than just the skills. Weave in how this might help the individual move into a new career, get a pay rise or sell more of a service – to name a few examples – has greater value than a bullet-pointed list of subjects. It's also essential to consider the common objections your course might face and to handle these within the natural flow of your content within your course sales page.
Learning outcomes
Learning outcomes differ to benefits as these will be the skills that someone will learn by completing your course. Avoid the temptation to be brief and always look for a way to link the learning outcomes to a challenge your student might face.

But to achieve your goal of selling more online courses, we suggest you take this a step further, by linking it back to that core problem/solution.

Summary of Learning
One way to approach this is to summarise the abilities of your learners after they've finished the course – thinking about what they've learned and what they'll understand from the course after finishing it.

In this course you will learn:

Social Media Marketing; increase social engagement by understanding the nuances of popular social media platforms.
Copywriting; drive targeted traffic to your website with well researched and written copy.
Google Ads; create a thorough campaign focussed focused on maximising RoI and conversions.
See how these learning outcomes are more descriptive than a list? It's a good opportunity to talk about what you're covering and why in a way that's easily digestible on your online course sales page.
Summary of Assessments
Another way of presenting this is by focusing on writing outcomes based on the assessments that your students will complete.

When you finish the course you will have:

Activated social accounts across Twitter, LinkedIn and Facebook and begun to post on them daily.
Created a 1000 word blog for a website that incorporates all the copywriting tips covered in this course.
Have a Google Ads account with a set of highly targeted ads ready and waiting to go live.
Obviously, this is highly dependent on the course content you currently have in place.

Extras
Now is the time to lay out anything else your course offers. For those who land on your page looking for key information, these extras will help legitimise your course.

The types of people who land on your page and scan it for key info are typically very top level; just looking at weighing up different options. This information may not seem to be the be-all and end-all, but they are key in separating your online course from the rest.

Things you can include here could be:

Certifications and accreditations
Offline content/ downloadable lessons
One-on-one tuition
Individual feedback on assessments
Mobile access
Awarding bodies
Information packs/ resources
Interactive content
Any official marks or seals of approval
Live or online support
Downloadables
Worksheets
Access to exclusive support/ member groups
The more value you offer, perhaps in terms of time or the approval of a recognised awarding body can be the winning differentiating factor, particularly in the case of online courses which have lots of competition. Where many courses may cover similar content, the legitimacy of your course and the expertise you offer could make or break a sale.

You may want to leave some of these things out and add them into the FAQs section. Choose the things you think demonstrate the most value and credibility, and if you think that some things need more of an explanation or simply aren't so important then move them down into that section of your online course sales page.
About the instructor
Here's your opportunity to show off – think of it as a cross between a mini CV and an elevator pitch. Similarly to the Extras, who you are and your level of expertise in the field could be the thing that seals the deal.

Always write your bio in the third person to avoid sounding big-headed and write as concisely as possible. A good place to start is by giving yourself some kind of title. Perhaps you consider yourself to be 'the online course selling guru'; this may seem disingenuous but what you're actually saying is 'i believe in myself'. In showing a willingness to put your reputation on the line you will spark a sense of trust and credibility.

Another key factor to address is your ability to achieve the results you say you will in your course. Did you create a magic course sales page template that increased your sales by 50%? Or did you teach people how to sell their online courses face-to-face and now you want to share it with the world? Whatever you put here, you need to prove you are the person who will provide a solution that will solve your students' problems.

You may then want to move into your motivation for offering your course or expertise. This helps to create a connection with your students as people respond to altruism. Giving your knowledge to others is wholly unselfish, so tap into your feelings around this.

Other ways to demonstrate your credibility through your bio is to with this is to list out your work history, speaking engagements/appearances, awards and achievements then choose those most relevant to the course you're offering.

If you've worked with any major brands or spoken at any industry conferences then include these too. Remember you can always summarise by saying things like, 'Over the past 5 years Kaine has spoken at over 20 industry-leading elearning events'.

Social Proof
The key to selling more online courses is social proof.

Social proof demonstrates is key to demonstrating that your course is actually effective in helping people achieve their goals. Does your course bring the value you said it would? This section should prove it.

The positive language used to describe your course can help with search engine optimisation (SEO) as people search for things like, 'best sales page copywriting course' and 'effective online course sales page'. SEO is an extremely effective way of ensuring you stand out from competitors and sell more online courses. With SEO you'll increase your visibility and stand out in the search results as search engines favour your web page.

When paired with search engine marketing like paid ads, you can become an industry leader in your sector. Depending on the level of competition in your sector, ads can be an inexpensive way of driving traffic to your website. But this should be done in conjunction with SEO to keep costs down. Awareness and implementation of just the basic SEO fundamentals make up just 20% of all SEO tactics, but accounts for 80% of the impact. So if your budget is limited, then stick to applying the core principles of SEO.
Testimonials
Reviews are a powerful and compelling part of the customer sales journey – hearing reviews from other customers can influence a purchase, so much so that a negative review can be enough to stop someone from moving forward with a purchase. This demonstrates just how important it is to be receptive to feedback and deliver high-quality content.

When it comes to choosing ones to include on your online course sales page, potential customers are likely to be swayed by testimonials that link back to the learning outcomes you've stated.

'The course helped me learn the basics of online course marketing and increased my sales by 20%' is far better than 'the online course sales training was really informative and I enjoyed it alot'.

You might be scratching your head about how you can go about collecting testimonials. A good place to start can be sending out an automated email following completion of the course. This email should include a:

Congratulations
Thank you
Feedback form using star ratings
An open response asking for a review
You can use Google Forms to easily create surveys like this. Scoring aspects of the course using a star rating or Likert scale is the quickest way to get feedback, though leaving open responses to allow for more detailed feedback should also be included – though not necessary.

By making the questionnaire quick and easy to fill out you'll be more likely to get feedback on your online course. Including open responses will give you the opportunity to get the feedback you need to make adjustments. Alternatively, they are a great way to get suggestions for improving your course that you might have otherwise not thought of.

Stats
It's good practice to follow up with those who complete your course to see the tangible impact your course had on your students. If you can confidently say, 'some graduates have seen their sales grow by 100%' or '80% of graduates saw an RoI in just one month', you'll truly show the value of your online course beyond just what you might learn. These stats really demonstrate the value that your students' investment in your course has bought, so try to collect this data where possible.

Trial or Soft close
Here you want to include a trial or soft close – at this point, someone might have all the info they need to buy a course from you and take it to the next step. You could do this with a simple Call to Action and a button.

Some simple CTA examples:

Buy now
Register your interest
Contact us now
You can also offer a trial close in conjunction with a number of these other course sales page techniques.
Price anchoring
You may not have come across this term before, but you'll have probably seen it in practice. Price anchoring is where you break down the total cost of what you're offering as if you were charging full price, and then compare it to the cost of your course. We see this come up particularly where the online course being sold is expensive.

This can be presented in two ways;
How to use price anchoring?
Use price anchoring with caution. There are some cases where you don't really want or need to put a price on everything. Sales strategies vary between course and industry, so learn how to sell more online courses by testing different approaches.

Perceived value and monetary value are two different things. For some courses, you can't put a price on what you offer because what you offer is tailored or unique. Other times, you need to consider the value of your expertise. If you've spent 15 years building the course but only 6 hours of video lessons, you could argue that that should be priced higher than someone who only has 2 years of experience selling a course with 8 hours of video lessons.

Offer
Offers are a great incentive for customers. When there's a potential saving, the perceived value increases. Offers don't have to be discounts, you can create value in other ways – typically at very little cost:

Additional reading materials and guides
Exclusive access to a private members group
Taster course
Trial period
15-minute one-on-one session
Access to a webinar
Time-sensitive offer or discount that expires if they do not act now
When you offer something for nothing it reduces the risk involved as people aren't committing to a full purchase. There's also the age-old adage: possession is nine-tenths of the law. In essence, ownership is easier to maintain once someone already has it in their possession.

Inspirational ending
An inspirational ending injects positivity and affirmation into your sales page. Cosmetic brands tend to use a lot of sayings which encourage their customers to buy because they deserve to treat themselves. They almost give them permission to make a purchase. You may want to emulate this.

Stand out from your competitors
Unlock your potential
Transform your business
Achieve something great
Don't hold yourself back
Make today the day you make a change
It might sound cheesy, but much like the unique value propositions throughout the sales copy, using emotive language elicits a similar response in your customers. A lot of your online course sales page so far has really revolved around the tangible evidence and value your course can bring; the part that appeals to someone's rational decision making. But using emotive language seals the deal with someone's heart. And once you have someone's whole head and heart convinced, you're sure to secure a sale.

FAQs
The whole point of an online course sales page is to answer those burning questions. While we've really focused on course content, value and credibility, sometimes there are other answers that can't be drafted into the initial content. Here's where an FAQs section is useful. You can do this on-page using an accordion to keep the section neat and easy to navigate.

Things you may want to consider answering may be:

Whether the course can be viewed offline
How long access to the course is
The type of course content that's included
The format of extra materials like downloadables
The logistics of assessments or exams
How certificates are received
How much support someone can expect
Enrolment, including course start and end dates
You may have answered some of these FAQ suggestions here in previous sections. Of course, you want to be selective. If it's not appropriate to talk about the logistics of the type of course content or additional materials then leave it out of the main body of your sales page and include it in the FAQs section.
Hard Close
This is your final chance to close. Keep the CTA simple. Bring in that inspirational language if you want to.

Ideally, you should lay it out like this:

Final CTA; Buy now and get instant access to our Ultimate guide to online course sales pages
Button; BUY NOW
Inspirational Close or Risk Reversal
You really should keep it that simple. Anything else you feel like you've missed should be included elsewhere. If you can't find a home for it, ask yourself, is it really necessary on the sales page?

Risk Reversal
Another compelling sales strategy is risk reversal. Most of us come across flexible return policies that offer some kind of 'love me or return me' spiel that lets the buyer know that they've got nothing to lose if they're not satisfied.

A lack of risk, or seeing a company so confident in their product that they'll offer a policy of this kind makes it easier to part with cash. With a customer-centric policy like this, customers instantly have more trust in the brand. Unless what you're offering truly is awful then you shouldn't encounter many customers wanting their money back'returns'.

Similarly to the taster sessions or previews, it's harder not to commit to the full course once a customer has experienced some of it already.
Conclusion
What we've tried to give you is the best online course sales template that we could. We love working with elearning clients and are always keen to see them sell more online courses by optimising page layout and sales copy.

We really did spend hours trawling through sales pages and guides to give you the layout and copy that will convert best. Beyond our research, we've applied our experience from live projects as well as drawing on our extensive sales, marketing and copywriting training to give you pointers that will help you craft meaningful sales copy.

If you follow the guide and the sections throughout – no matter what online course you offer – your new sales page will attract more traffic and convert leads into sales in a shorter space of time.

Your next steps
We've tried to empower you to think about your course and its value; in terms of your expertise and to your customers. However, we understand that online course sales page copywriting and web page design isn't everyone's forte.

We will help you sell more online courses – if you don't know where to start, begin by sending us an outline of your project and your needs and we'll arrange a time to chat it through in more detail.

Build your own e-learning platform
CUSTOM BUILT FOR YOU
PAY ONCE, USE FOREVER
UNLIMITED USERS
Get your own e-learning platform, tailored to the demands of you and your learners.
Learn more